Hello Valued Clients,
Summer weather is here as our cloudy June weather fades to a memory. This is a good time to remember the importance of taking care of your skin. Sun can damage your skin and warm weather can increase breakouts. We have some great tips below.  We also cover news about Calming Waters Skin Care and our summer specials.
News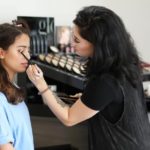 We are excited that Micheii Nading has joined us as a makeup artist.  Micheii is available for makeup consultations, full face makeup, and special occasions. We are now carrying the full line of Glo makeup, with every color selection that Glo has available.
We have updated our web site so that it covers all of our skin care services.  Did you know that in addition to facials, waxing, and peels, we offer microcurrent, microdermabrasion, and LED light therapy?  These services can be highly effective at addressing signs of aging and breakouts.
Specials
During July and August, Micheii is available Tuesdays from 2 pm – 7 pm for a free full-face makeup consultation. This includes color matching, full face makeup, and advice/tips on makeup.  This is normally a $50 service. Appointment required; same day appointments may be available.  Book now.
We are offering a 24K Gold Facial Special for only $100 through August.  It is perfect for the golden summer weather!  This luxurious facial includes microdermabrasion and a mask containing gold extract, used since ancient times for cosmetic purposes. Gold increases collagen production.  This facial will brighten your skin and leave your skin looking radiant and supple.  Book now.
July 29th is national lipstick day.  During July, buy any 3 lip products and receive the 4th lip product free. You can mix and match items. Free offer applies to lowest-priced item.
Summer Skin Care Tips
Summer is a time when you want your skin to look great. It can also be tough on your skin with increased sun exposure causing skin damage and heat leading to sweating and breakouts. It is easy to forget to protect against the sun when you live in an area with such cloudy weather.  This unfortunately shows up in our area's elevated skin cancer rates.
Clothing is highly effective at protecting against the sun, provided it blocks light.  We had a French neighbor from Paris growing up who had the most beautiful skin as she aged. She always wore hats in the summer to protect her face.  We carry a wide line of sunhats and scarves.
Remember to wear sunglasses to protect your eyes and the delicate skin around them.
Always wear sunscreen. Even during cloudy weather, damaging UV rays penetrate through clouds. UVA rays go through glass too. With fewer clouds, long summer days, and more time outdoors, your UV exposure goes up during the summer.
Be sure to reapply your sunscreen.  If you are active and sweating, you should reapply it every two hours.
A good home skin care regimen will help prevent breakouts.  Be sure to use the appropriate cleanser daily.  Moisturizing helps prevent the skin from overproducing oil.  Always follow up with sunscreen.  Oil-free sunscreens are especially good for people prone to break outs.. Exfoliation helps reduce dead skin and keep pores unclogged.