Summer is finally here! We have exciting new specials to announce that will be available June through July. We also have some skin care and makeup tips to help with the change in weather and explain the benefits of LED Light Therapy.
June and July Specials
Skin Care Tips
Makeup Tips

Summer is the time to let your skin breath and just enjoy the sun. We recommend doing a light tinted moisturizer that offers sun protectant, and topping it off with a powder that also has SPF
Here are some suggestions for days where you want a full face of makeup:
LED Light Therapy for Summer
What is LED light therapy? LED Light Therapy is a non-invasive and painless treatment that uses LED lights of varying wavelengths (colors) to help with sun damage, redness, and stimulate collagen production. We customize what lights are used based on your skin care needs.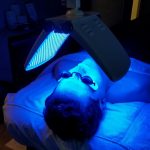 Our LED equipment has red, blue, green, and yellow lights. Red lights increase blood and lymph circulation and in turn helps with healing and reducing inflammation. Blue lights are used mainly for killing bacteria. This can reduce inflammation and helps with acne. Green lights help with hyperpigmentation and fading discoloration or spots. Yellow lights help minimize redness and sooth skin.
Because of all the healing properties of LED Light Therapy, it is a great summer time treatment. It will help with previous sun damage and rejuvenate your skin.
Thank you and we look forward to seeing you soon!
Sabrina and the Calming Waters Team